Hangzhou Pinpoint won the first place in Huasan developer competition
Release date:2018-11-14
The three most common questions asked by modern people are "where am I", "who am I" and "what am I doing". Facing the problems of the latter two philosophy departments, we are still unable to give the answer, but facing the first problem, we have a good solution. Through GPS mobile positioning, we can know our position conveniently and in real time. In daily life, the application of GPS still has many limitations; Especially in the indoor or other closed environment, it is impossible to locate accurately without searching the satellite, which has become an outstanding problem. At the recent navigation maker festival held by Xinhua 3, the incubated "UWB indoor positioning solution" can effectively solve this problem.
As the first prize work of the navigation maker's Festival - Solution Developer competition, the UWB indoor positioning solution of Hangzhou Pinpoint Technology Co., Ltd. can achieve accurate device positioning by installing an expansion card on the Internet of things access terminal T300 brought by Xinhua 3 Internet of things AP. Like the GPS principle, the UWB indoor positioning solution can achieve accurate 3D indoor positioning only through three to four T300 base stations and corresponding positioning terminals, and its accuracy has reached the centimeter level.
In practical application, this set of UWB indoor positioning solution can effectively solve the problems of production safety in public security inspection and law department, power plant pipe gallery, manufacturing logistics or other closed environment and accurate positioning in various rescue and disaster relief processes.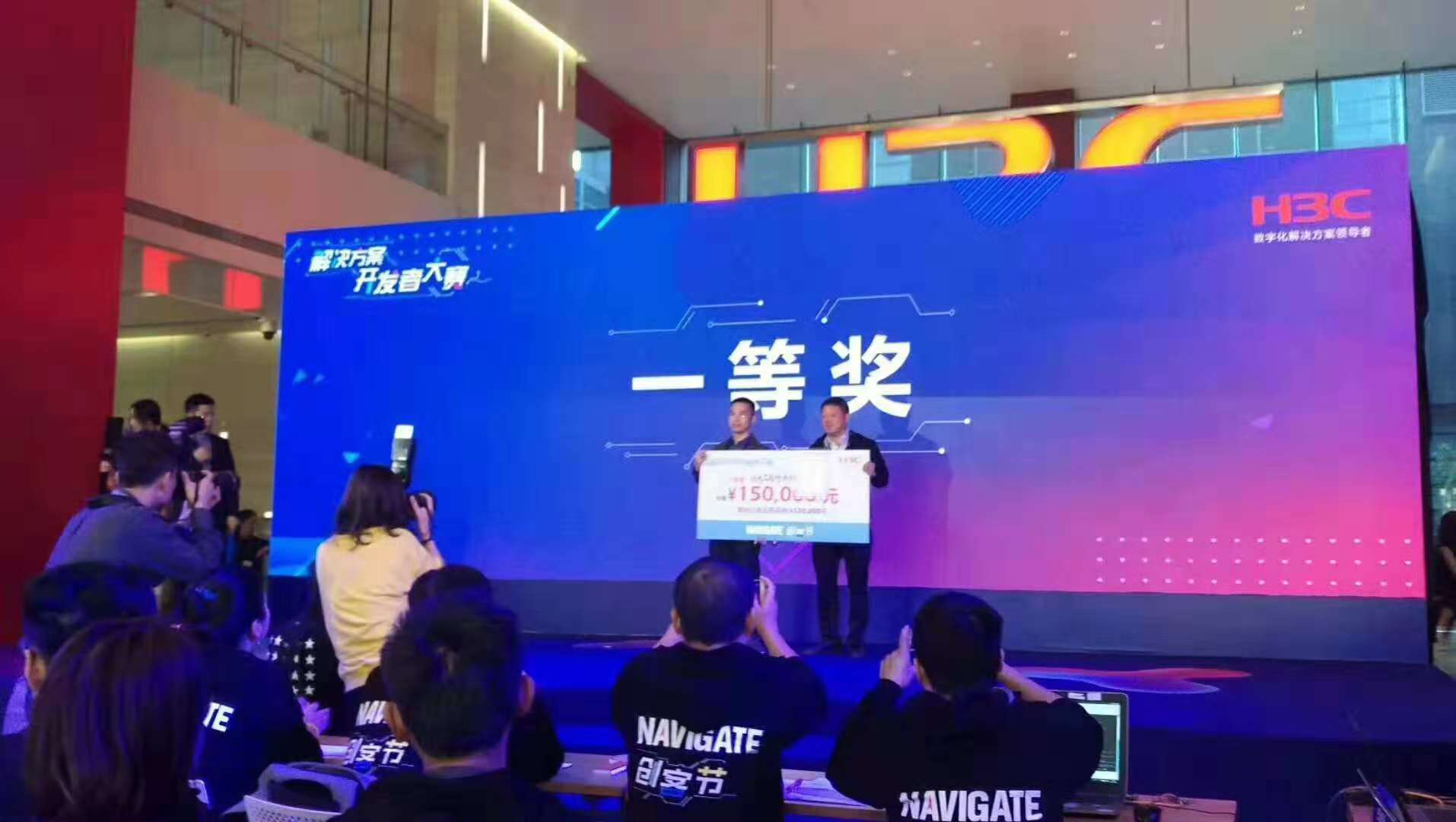 Small companies can also be on the big stage
Hangzhou Pinpoint Technology Co., Ltd., the developer of this indoor positioning solution, is a typical small IT enterprise. Since its establishment in 2016, the company has only more than 40 people, of which the proportion of R & D personnel accounts for more than half of the company.

Although it belongs to small and micro enterprises, Hangzhou Pinpoint is a true technical strength in the professional field of Indoor 3D positioning. In 2016, the company's main creators won the third place in the three-dimensional positioning group of Microsoft indoor positioning competition, the highest level event in the industry, with a positioning error of only 29 cm, which is the best achievement of domestic enterprises in the event. It can be said that Hangzhou Pinpoint is a small enterprise that really grasps the core technology. Subsequently, the team members spent more than a year to set up Hangzhou Pinpoint and began to solve the product problem of the technology.

After becoming a partner of Xinhua 3, the development of Hangzhou Pinpoint has entered a fast lane. With the complete solution capability and strong industry penetration of Xinhua 3, Hangzhou Pinpoint indoor positioning solution has successfully entered the power system to help power generation enterprises achieve accurate positioning of employees in complex environments to ensure work efficiency and personnel safety. In practical application, this set of indoor positioning solution has also received very good use effect, and has been recognized and praised by users.

In the navigation maker's Festival - Solution Developer competition, Hangzhou Pinpoint passed all the way and finally became the first in the competition after preliminary and semi-finals. In the face of this "surprise", Sun Yu of Hangzhou Pinpoint participating team said: through this competition, Hangzhou Pinpoint not only gained honor and material rewards, but also gained a wide understanding within Xinhua III and among makers. After winning the award, sales personnel from other departments of Xinhua III and other enterprises have taken the initiative to seek cooperation, which will provide great help for the further development of Hangzhou Pinpoint in the future.
Help partners grow and achieve boundless ecological win-win
Xinhua San, who has deep experience in ICT, knows that even if a company is strong, it can not cover all technical fields and markets. To become a leader in the eyes of the market and users, it is necessary to establish a strong and extensive technical cooperation and create a "boundless ecology".

At present, Xinhua III has built a huge cooperation ecosystem with a scale of more than 10000, including not only many system integrators deeply engaged in the industry, but also a large number of small and medium-sized enterprises such as Hangzhou Pinpoint that master core technology. Through industry or technology-based cooperation with these partners, xinhuasan can fully meet the digital transformation needs of Baixing Baiye and become a leader in this field.

Of course, for partners, Xinhua 3 is not only an ICT giant with strong R & D and production capacity, but also a platform that can enter a larger market. With this platform, even small enterprises deeply engaged in a professional application can enter a larger market and achieve greater development through the combination of solutions.
The navigation maker's festival enables many partners to stand in the center of the stage and display their products and technologies. It is also a major investment of Xinhua 3 in ecology. In the future, Xinhua III will take building an equal and open technology ecology as its own responsibility, continue to promote the development of the navigation maker Festival, make it the most influential and appealing maker activity brand, and contribute to the sustainable development of ICT technology and the construction of digital economy.